Barefoot Times
News
25th February 2020
Zeus Publications are sadly closing down so this book will no longer be available in print form. Instead it can be downloaded free of charge as a PDF ebook by following the link on the book's home page.
21st July 2010
Barefoot Times is now available as an E-book from Zeus Publications. Go to www.zeus-publications.com/barefoot_times.htm and follow the E-books shopping cart link on the right.
25th September 2009
I've added a Tour page to the Barefoot Times site, with photos of some of the coastal Queensland locations used in the story.
10th May 2008
The Mind of the Dolphins, book three in the series, is now available from Zeus Publications.
27th February 2007
The third book in the series, called The Mind of the Dolphins, has now been completed and submitted for publication.
28th May 2005
I've started writing a follow-up book entitled Call of the Delphinidae, telling the back story of Aaron's parents; Mary (a Delphinidae Priestess sent to Earth by the Dolphins) and Bobby (who we know from Barefoot Times has a drinking problem).
3rd December 2004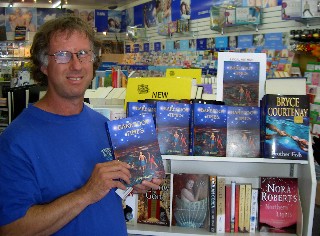 Beach Books at Umina Beach now have the book in stock and prominently displayed on their shelves.
The Central Coast Express Advocate newspaper will be publishing a review in a few weeks time.
15th October 2004
The book is now available from Zeus Publications' on-line book store at www.zeus-publications.com/barefoot_times.htm
16th September 2004
The book is now on its way to the printer and should be released about mid October.
10th September 2004
The cover design has been completed - you can see it on the home page of this site.
23rd August 2004
The editing and layout of the book has been completed and I am now waiting on the cover design.
19th May 2004
The publishers have advised that the manuscript has been passed to their editorial staff for editing and layout, and this is expected to take about three to four months.
13th May 2004
A contract has been signed with Zeus Publications (www.zeus-publications.com) for the publication of Barefoot Times.