Rise of the Gomeral
News
25th February 2020
Zeus Publications are sadly closing down so this book will no longer be available through them. Instead it can be downloaded free of charge as a PDF ebook by following the link on the book's home page.
18th August 2018
Some twenty guests attended the launch of Rise of the Gomeral at the Made Brus Mexican restaurant in Woy Woy.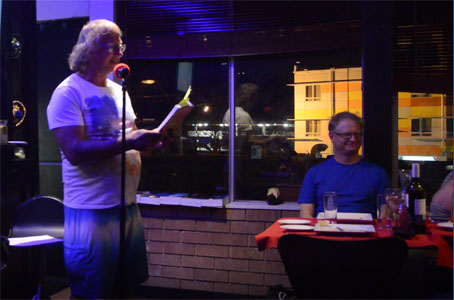 6th July 2018
The book's now in print and available from Zeus Publications. The date for the launch dinner will be announced shortly.
20th June 2018
Everything's now complete and it'll be going to the printers next week.
15th June 2018
The cover design is now done and can be seen on this book's home page.
16th May 2018
All the checking and corrections are done, now waiting on the cover design.
3rd May 2018
I've received the edited proofs from the publisher, now going through it all with a fine-toothed comb before signing off on it.
1st February 2018
I've signed the contract and the book is now in the publisher's edit queue.
15th January 2018
The first draft is finished; now for the revision and preparation for publication.
21st November 2017
Part Three is finished.
24th March 2017
Part Two is finished.
6th January 2017
Part One is finished.
30th November 2014
This book is underway, picking up from where Plight of the Tivinel left off.